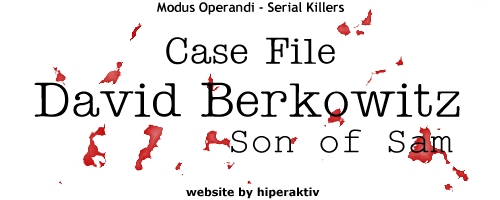 Introduction
This page is about the Son of Sam killings that terrorised New York in 1976-77. The killer was David Berkowitz, who liked to shoot women with his 44.calibre Bulldog. Sometimes he would leave a letter behind saying that he believed he was in some way being told by demons to kill. The killings made a sensation in New York, all newspapers about the murders were sold out. This page is a documentation of his life and crimes.
Profile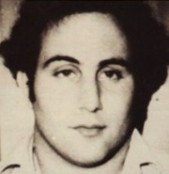 Name - David Berkowitz.
AKA - Son of Sam, The .44 Calibre Killer, The .44 Killer.
DOB/DOD - 1 June 1953 - Alive(Currently Incarcerated at the Attica Correctional Facility).
Family - Mother 'Betty Broder', Father 'Joseph Kleinman', Sister 'Roslyn Falco', Adoptive Parents 'Nathan & Pearl Berkowitz'.
Residence(at Time of Murders) - 25 Pine Street , Yonkers, New York. USA.
Murder Type/Practices - Serial Killer.
Method/Weapons Used - Shooting / .44 Calibre Bulldog.
Organization - Disorganized.
Mobility - Stable.
Victim Vicinity - New York.
Murder Time Span - July 1976 - July 1977.
Victim Type - Young Women in Parked Cars.
Victims - Donna Lauria (Died 29 Jul 1976), Christine Freund (Died 30 Jan 1977), Virginia Voskerichian (Died 8 Mar 1977), Valentina Suriani & Alexander Esau (Died 17 Apr 1977), Stacy Moskowitz (Died 31 Jul 1977) (+?).
The Beginning
Betty Broder married an Italian American called Tony Falco at the age of 19. She began an affair with Joseph Kleinman, who was already a married man. She soon fell pregnant and Kleinman told her if she wanted to continue seeing him she had to get rid of the baby.
David Berkowitz was born on 1 June 1953 and immediately put up for adoption. The people to adopt him were a Jewish couple called Nathan and Pearl Berkowitz, who were unable to have children of their own.
Pearl Berkowitz died of cancer when David was 14. David was saddened by this and he and his father moved to Bronx's Co-op city in New York in 1969.
Nathan Berkowitz remarried in in 1971. David was failing at school at didn't like his new family so he decided to join the army. David returned from the army in 1974, with his new religious faith. Nathan Berkowitz was upset by David leaving Judaism.
David left the house and went to live in 2151 Barnes Avenue in the Bronx. He soon became lonely and decided to search for his real parents. Through some searching in the Bureau of Records he discovered his real name was Richard Falco. He looked through the phone directory and contacted his real mother.
They had an emotional reunion and soon David became a frequent guest in his mothers home. He also met his sister, 37-year-old Roslyn and her family, of which he also visited quite frequently.
In January 1976 he drifted apart from his sister and mother by visiting them less often. His sister was worried of David's complaints of frequent headaches.
In February he moved to the home of Mr and Mrs Cassara in New Rochelle, New York. Two months later he left the Cassaras' home unexpectedly not even bothering to collect his $200 dollar deposit.
Before the documented shootings David Berkowitz made three knife attacks on young women, all of which the victims survived. Displeased with his uneffective methods he changed them when he purchased his .44 calibre Bulldog.
He moved into Pine Street in Yonkers just three months before the first murder.
The Murders
On 29 July 1976, two young girls, 18-year-old Donna Lauria and 19-year-old Jody Valente were sitting in Jody's car at 1.am outside Donna's home.
A few minutes later after they just finished talking, Donna said goodnight to Jody and was just about to open the door when a man approached the car. He was holding a brown paper bag of which he reached into and pulled out a gun. He fired 5 shots. Donna was shot in the neck and arm, she fell out of the car and hit the pavement. Jody screamed as a bullet struck her thigh. She fell forward hitting the car horn.
Donna's father, Mike Lauria, was already on his way downstairs, taking Donna's poodle for a walk, when he heard the shots. He then quickly ran the rest of the way. He found Jody leaning on the car horn screaming.
Mike Lauria accompanied his daughter on the way to the hospital, but she was already dead. Jody was taken to the hospital, suffering from hysteria. Jody was able to give a description of the killer: a white male with curly hair, about 30 years old. She had never seen the man before in her life until that day, and she knew it wasn't one of Donna's ex-boyfriends out for revenge.
The neighbours reported that they saw a yellow car parked a few meters back from Jody's car, but it had gone by the time the police were on the scene.
It was thought that this could of been a possible Mafia hit with a case of mistaken identity, because the area of the North Bronx is a popular Italian area. Also the police knew the weapon was a .44 Bulldog, which is a weapon solely for the purpose of killing people.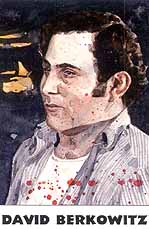 On 23 October 1976 was the next attack of Son of Sam.
18-year-old Rosemary and 20 year-old Carl Denaro has just left a bar and drove to a quiet spot where they could be alone in the district of Queens.
Carl Denaro had shoulder length hair and was mistaken for a girl by Berkowitz as he pulled out his .44 and fired it five times into the red Volkswagen. As the recoil on the gun made his aiming inaccurate only one of the fired bullets hit Carl Denaro in the back of his skull. Carl Denaro survived the attack but required a metal plate to replace the portion of his skull that was missing.
Around midnight, 27 November 1976 Berkowitz struck again in the area of Queens by attacking 18-year-old Joanne Lomino and her 16-year-old friend, Donna DeMasi.
The two girls were sitting on the front steps of Joannes homes on 262nd Street when a man crossed the road and approached them. It appeared the man was seeking directions. 'Say can you tell me how to get to...', then the man pulled out a gun from his waistband and began firing at the girls. The girls both turned towards the door when Joanne was shot in the lower spine and Donna was shot through the base of the neck. The other three shots that the gunman fired missed. A local nearby saw a man running down the street still holding the gun.
The girls were rushed to hospital. Donna was not badly injured but Joanne's spine was shattered and she would have to spend the rest of her life in a wheel chair.
The police considered that the attacker could be the man who murdered Donna Lauria and attacked Jody Valente. But due to different eyewitness descriptions of the attacker it seemed unlikely to them.
On 29 January 1977, 30-year-old John Diel and 26-year-old Christine Freund had left a bar just after midnight and got in their Pontiac Firebird. Suddenly the windows shattered by a roar of gunfire that entered the car. After the attack the unharmed John Diel found his girlfriend slumped forward with a bullet wound to the head. She died later in St Johns hospital.
After it was discovered that the weapon was a .44 Bulldog the police connected all the attacks, but dismissed it because of the different descriptions of the assailant in each of the attacks.
On the 8 March 1977, 19-year-old Virginia Voskerichian was returning home in Exeter Street, Queens at around 7.30 pm when she side-stepped a man to let him pass. Just as she did he raised a gun to her head and fired, killing her instantly.
After ballistics tests on the riflings of the bullet that killed Virginia Voskerichian proved to be the same that killed Christine Freund, and that both murders were close in location it was thought that it was the same .44 killer who had done the previous four attacks. Even with the different descriptions of the attacker the police decided to start a task force - Operation Omega, to catch the .44 killer. It was announced on the 14 April 1977 and was under the command of Deputy Inspector Timothy J. Dowd.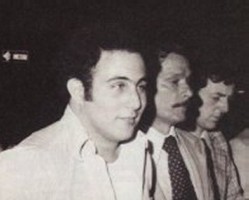 Son of Sam struck again on the 16 April 1977. 18-year-old Valentina Suriani and 20-year-old Alexander Esau were sitting in their Mercury Montego in the Bronx area, not far from where Donna Lauria had been killed. Suddenly the window erupted and two bullets struck Valentina in the skull killing her instantly. The next two shots hit the the top of Alexander Esau's head. He died two hours later.
The first policeman to arrive at the murder scene found a white envelope addressed to Captain Joe Borelli, who was Timothy Dowd's deputy. Eight police officers handled the letter, but even when their fingerprints had been eliminated, it appeared the killer had only used the tips of his fingers making the prints unable for a matching. On the 30 April a letter had been sent to the New York Daily News' journalist Jimmy Breslin.
The Letters
The Suriani-Esau letter sent to Captain Joe Borelli -
I am deeply hurt by your calling me a weman - hater. I am not.
But i am a monster. I am the "son of Sam." I am a little brat.
When father Sam gets drunk he gets mean. He beats his family.
Sometimes he ties me up to the back of the house. Other
times he locks me in the garage. Sam loves to drink blood.
"Go out and kill," commands father Sam.
Behind our house some rest. Mostly young - raped and
slaughtered - their blood drained - just bones now.
Pap Sam keeps me locked in the attic too. I can't get out but
I look out the attic window and watch the world go by.
I feel like an outsider. I am on a different wavelength then
everybody else - programmed too kill.
However, to stop me you must kill me. Attention all police:
Shoot me first - shoot to kill or else keep out of my way or you
will die!
Papa sam is old now. He needs some blood to preserve his
youth. He has had too many heart attacks. "Ugh, me hoot, it
hurts, sonny boy."
I miss my pretty princess most of all. She's resting in our
ladies house. But i'll see her soon.
I am the "monster" - "Beezlebub" - the chubby behemouth.
I love to hunt. Prowling the streets looking for fair game -
tasty meat. The wemon of Queens are prettyist of all. I must
be the water they drink. I live for the hunt - my life. Blood for
papa.
Mr. Borelli, sir, I don't want to kill any more. No sur, no
more but I must, "honour thy father."
I want to make love to the world. I love people. I don't
belong on earth. Return me to yahoos.
To the people of Queens, I love you. And i want to wish all
of you a happy Easter. May God bless you in this life and in the
next. And for now I say goodbye and goodnight.
POLICE: Let me haunt you with these words:
I'll be back! I'll be back!
To be interrpreted as - bang, bang, bang, bang - ugh!!
Yours in murder Mr. Monster.
It is actually after this first letter that the media and police called the killer Son of Sam from what he named himself in the letter.
The New York Daily News decided not to publish their letter straight away and ran a few tease articles over the next few days, then on the day they published the whole letter in the paper it soldout within an hour. They kept the presses rolling and by the end of the day they had sold 1,116,00 copies. This record was beaten when Berkowitz was arrested.
Part of the letter sent to Jimmy Breslin not published in the New York Daily News -
Not knowing what the future holds I shall say farewell and I will see you at the next job. Or should I say you will see my handiwork at the next job? Remember Ms. Lauria. Thank you.
In their blood and from the gutter.
"Sam's Creation" .44
Here are some names to help you along. Forward them to the inspector for use by the N.C.I.C. :
"The Duke of Death"
"The Wicked King Wicker"
"The Twenty Two Disciples of Hell"
"John 'Wheaties' - Rapist and Suffocator of Young Girls."
PS : J.B please inform all the detectives working the slayings to remain.
This letter was shown to the police before it was published, but the above page was not included in the newspaper because it reffered to the N.C.I.C - The National Crime Information Center.
The Final Murder
The next attack happened on 25 June 1977 in the area of Queens. 17-year-old Judy Placido and 20-year-old Salvatore Lupo had just left a discotheque and were sitting in their car chatting about Son of Sam, when Son of Sam suddenly attacked. The shots went through a window and Salvatore was shot in the wrist which went to pass on to hit the flesh of Judy's neck. The next shot got Jody in the head but did not penetrate her skull. The next shot hit her shoulder. Salvatore jumped out of the car and ran to the discotheque. Jody, shocked, had just realised that she had been shot and headed for the discotheque, collapsing after a few steps.
They both recovered in hospital, Salvatore had a shattered wrist and Jody escaped without serious injury. A witness saw a white stocky man running from the crime scene a few blocks away.
The final attack happened on the 31 July 1977 in the district of Brooklyn.
Bobby Violante and Stacy Moskowitz had just seen a movie and at about 1.45 am parked opposite a playground and softball park under a streetlamp. They decided to have a stroll around the park. When they were walking around the park they noticed a man, a 'hippie type' leaning against the wall of a public toilet.
Tommy Zaino and Debbie Crescendo were sitting in their car and noticed the 'hippie type' man as well. Under the streetlamp where Bobby Violante had parked was the place that Tommy Zaino had just moved from as Tommy thought the streetlamp too conspicuous - an action that probably saved both of their lives.
Bobby and Stacy headed back to the car, by now the 'hippie type' man had gone. They were sitting in their car and talking and kissing for a while when suddenly Son of Sam fired three shots through their car window. Bobby's eardrums exploded instantly, he felt Stacy collapse in his arms but was unable to see her as the bullets had blinded him him also.
Tommy Zaino saw all of the happenings in his rear view mirror. "What was that?" asked Debbie as she heard the gunshots. "Get down. I think its Son of Sam," replied Tommy who immediately guessed it was the .44 Killer. Tommy Zaino had only got a quick look at the murderer.
Stacy died 38 hour laters in hospital and Bobby was left permanately blinded.
The capture of David Berkowitz was not made by the eyewitness report of Tommy Zaino, but by Cacilia Davis, who did not even see the murder, but another key event that happened on that night...
Modus Operandi
| | | | | | |
| --- | --- | --- | --- | --- | --- |
| Date | Day | Time | District | Victims | Method |
| 29 Jul 1976 | Thur | 1.10 a.m. | Bronx | Female(18)-Killed, Female(19)-Wounded | 5 Shots |
| 23 Oct 1976 | Sat | 2.00 a.m. | Queens | Male(20)-Wounded, Female(18)-Unwounded | 5 Shots |
| 27 Nov 1976 | Sat | 11.55 p.m. | Queens | Female(16)-Wounded, Female(18)-Wounded | 5 Shots |
| 30 Jan 1977 | Sun | 12.15 a.m. | Queens | Female(26)-Killed, Male(30)-Unwounded | 3 Shots |
| 8 Mar 1977 | Tue | 7.40 p.m. | Queens | Female(19)-Killed | 1 Shot |
| 17 Apr 1977 | Sun | 3.00 a.m. | Bronx | Female(18)-Killed, Male(20)-Killed | 4 Shots |
| 26 Jun 1977 | Sun | 3.00 a.m. | Queens | Female(17)-Wounded, Male(20)-Wounded | 3 Shots |
| 31 Jul 1977 | Sun | 2.30 a.m. | Brooklyn | Female(20)-Killed, Male(20)-Wounded | 3 Shots |
The Capture
On that night 49-year-old Cacilia Davis (before the murder happened) was dropped off by a friend in his car just not far from the park just after 2.00 a.m. As the car stopped off and because it was in a one way street, Mrs Davis was looking out for other cars; as she did so, she saw a yellow Ford Galaxie parked next to a fire hydrant (which is an offence). As she watched she saw a man approach the car and remove a parking ticket from the windscreen. She had continued talking to her friend and at about 2.15 a.m. her friend decided to leave. As her friend was reversing out his car, the Ford Galaxie braked behind him and blared the car horn. She noticed that the driver was young and had dark hair. Her friend drove on with the Ford Galaxie behind and then the Ford Galaxie overtook him and sped on.
A few minutes later Mrs Davis took her dog for a walk in the nearby park. As she did so she saw three parked cars which was Tommy Zaino's car, Bobby Violante's car, and a VW van. As she was returning home she noticed a dark haired man in a blue denim jacket, he was walking as if he was carrying something up his sleeve; the man glared at her, making her nervous so she returned home quickly. The man she saw looked like the man who had been driving the Ford Galaxie earlier.
When the murder happened a nurse heard the gunshots and looked out of her window, she saw a speeding VW van. The VW was going very fast that it nearly hit another car, the man in the car that nearly got hit describing the driver of the VW as having brown stringy hair resembling like a 'hippie type'.
After the murder happened Mrs Davis knew she had some key evidence that might help catch Son of Sam. It took her two days to come forward to the police to tell her story as she thought that Son of Sam might try and eliminate a witness. The police interviewed her and got her complete story. The was one thing in the story that didn't add up, she had seen a man in a Ford Galaxie driving away from the park, when she also said that she had seen the same man in the park after he drove off. The police didn't rush on the story as reports had been that a speeding VW was seen leaving the scene. The police also tried to look for the parking ticket that the Ford Galaxie had been given on the night of the shootings as described in Mrs Cacilia's story. It took them ten days exactly after the last attack to find the ticket. After the ticket was found it proved to belong to a David Berkowitz, registered as 561-XLB, who lived at 25 Pine Street, Yonkers.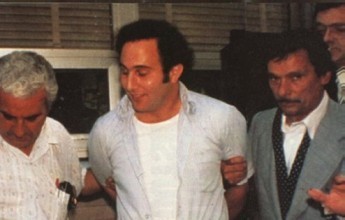 On Wednesday, 10 August 1977, two detectives - John Longo and Ed Zigo, went to Berkowitz's address to check on him. Outside was Berkowitz's Galaxie, in the back seat was a duffel bag with a rifle butt pointing out the end. This was not unusual as many citizens have rifles which do not even require a license. On further inspection inside the car they found a note inside the glovebox addressed to Timothy Dowd of the Omega Team, threatening an attack on Long Island. The police - confident that they had their man - waited for Berkowitz to be out of his apartment before they would arrest him. Six hours later Berkowitz left his apartment and got in his Galaxie, just as he did, police rushed on the car and arrested him.
The End
David Berkowitz confessed to all the murders. He explained that he had been ordered to commit the murders by his neighbour, Sam Carr, and that these orders were transmitted to Berkowitz by Carr's Demon Dog, Harvey. The demon voices travelled with him as he was out hunting for new victims.
The murder investigation was the the largest single operation ever mounted by the NYPD, costing about 90,000 dollars a day and involving 300 detectives, dealing with 215 calls a day on the police hot line. Over 3,000 suspects were questioned, and an attempt made to check out each of the 28,000 .44 calibre Bulldog revolvers manufactured up to that time.
Berkowitz pleaded guilty to the murders and was sentenced to 365 years in prison in the Attica Correctional Facility. David Berkowitz showed many signs of paranoid schizophrenia, which was said to attribute to the murders.
Satanic Cult?
One thing that was suggested was that a local New York satanic cult had been responsible for the murders. David Berkowitz showed to have an obsession with demons so it could of been possible that he was in a cult. In some of the attacks the descriptions of Son of Sam differed. Tommy Zaino described the killer as having stringy, fair hair, but Berkowitz had short dark hair.
When a detective named James Justus rang the Yonkers police headquarters to look up Berkowitz (before Berkowitz was arrested) he spoke to a switchboard operator named Wheat Carr. He told her that he was working in the Son of Sam case and was checking on a man named David Berkowitz. The detective was astonished when the woman said she knew David Berkowitz and she believed him to be Son of Sam.
Wheat Carr told of how she believed that her dog, Harvey, was shot by their neighbour, Berkowitz. Berkowitz always complained about their dog. Her father(Sam Carr) had one day met up with a Mr Cassara who was enquiring about a get-well card sent to him about falling off his roof - supposedly sent by Mr Carr. On the get-well card was a black dog just like that of Harvey. Mr Carr did certainly not send the card, but it seemed weird that their dog had survived gunshot wounds two months earlier by an unknown person and the dog on the card looked like Harvey. At this point none of the Carrs suspected Berkowitz. When Mr Cassara arrived home and told his son, his son suggested it could of been David Berkowitz. David Berkowitz had rented a room above the Cassara's garage a year earlier, he had complained of their german shepard, and left a few weeks later not even bothering to collect his $200 deposit. The Cassara's phoned Sam Carr and asked him if he knew David Berkowitz. Sam Carr had told them that Berkowitz was a neighbour around the corner. They then phoned the police about Berkowitz - but the police could do nothing without good evidence.
After Berkowitz was caught, a journalist named Maury Terry was investigating for himself about the Son of Sam killings. He was interested in the different descriptions of the killer in each of the attacks. The VW van in the last murder suggested it was the work of a team. Terry then interviewed Sam Carr and heard his story. Sam Carr told Terry that he had two sons - John and Michael. John's nickname was "Wheaties". Terry had remembered the Breslin letter and the mention of "John 'Wheaties' - Rapist and Suffocator of Young Girls". There seemed to be a connection but Sam Carr hadn't seen his son in years. When Terry enquired about John Carr it took till October 1978 to track him down - but when John Carr had been tracked down, it was because he had committed suicide. On the wall next to where his body was found was the letters - S.S.N.Y.C. scrawled in blood. Terry knew that the letters could stand for - Son of Sam, New York City. There was also the numbers 666 on John Carrs hand, which is the devils number. John Carr also had long brown stringy hair and looked like a 'hippie type', which would be a possible match for the man seen in the park and driving the VW van by witnesses in the last murder. It could of almost seemed that Carr and Berkowitz were friends in a satanic cult, that one of its rituals was to kill dogs, and that they were involved in the Son of Sam attacks on New York.
Berkowitz was attacked in his cell on the 10 July 1979. Someone had attacked him with a razor, nearly killing him, the cut required 56 stitches. Berkowitz said it was an attempt by the occult group he was involved with to silence him because he was talking about things they wanted to remain unknown.
Conclusion
One year after Berkowitz was arrested he held a press conference in prison saying that his story about Sam Carr and demon-possession was a hoax. He bought the .44 and said that his attacks had been from his dissapointments with women. It will remain unknown if a cult was involved in the Son of Sam attacks. Berkowitz definitely did commit all or some of the attacks, but one things remains certain, Son of Sam terrorised New York with 6 murders in the space of 12 months.