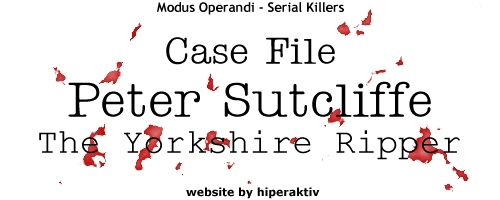 Introduction
This page is based on the Yorkshire Ripper - Peter Sutcliffe. In the space of 5 years he had claimed 13 victims in northern England. Supposedly Sutcliffe was driven by gods voice emanating from a gravestone which commanded him to kill prostitutes. This sadist had the habit of bashing his victims heads in with a ball-pein hammer and then mutilating the dead body. This page is a documentation of his life and crimes.
Profile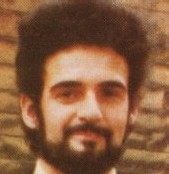 Name - Peter Sutcliffe.
AKA - The Yorkshire Ripper.
DOB/DOD - N/A - Alive(Currently Incarcerated at Broadmoor Mental Hospital).
Family - Father 'John', Mother 'Kathleen', Sisters 'Anne, Maureen, Jane', Brothers 'Mick, Carl', Wife 'Sonia'.
Residence(at Time of Murders) - 6 Garden Lane, Heaton, Bradford. UK.
Murder Type/Practices - Serial Killer / Sadism.
Method/Weapons Used - Stabbing, Strangulation, Bashing / Ball-Pein Hammer, Knives, Claw Hammer, Hacksaw, Screwdrivers, Rope.
Organization - Disorganized.
Mobility - Stable.
Victim Vicinity - Yorkshire, Northern England.
Murder Time Span - July 1975 - January1981.
Victim Type - Prostitutes.
Victims - Wilma McCann (Died 30 Oct 1975), Emily Jackson (Died 20 Jan 1976), Irene Richardson (Died 5 Feb 1977), Patricia Atkinson (Died 23 Apr 1977), Jayne MacDonald (Died 26 Jun 1977), Jean Jordan (Died 1 Oct 1977), Yvonne Pearson (Died 21 Jan 1978), Helen Rytka (Died 31 Jan 1978), Vera Millward (Died 16 May 1978), Josephine Whitaker (Died 4 Apr 1979), Barbara Leach (Died 2 Sep 1979), Marguerite Walls (Died 18 Aug 1980), Jacqueline Hill (Died 17 Nov 1980) (+?).
The Beginning
Peter Sutcliffe was born to John and Kathleen Sutcliffe in the small town of Bingley just six miles north of Bradford. The eldest of his 2 brothers and 3 sisters. Peter was a quiet and shy child who sometimes hid behind the dress of his mother. His school grades were poor and he left school at the age of fifteen. Over the years he got a few jobs, one of them was gravedigger at Bingley Cemetary which he kept for three years, losing that job because of his usual late arrivals.
While he was a gravedigger Peter usually visited a pub with his gravedigger friends, at this point he met a 16-year-old Czechoslavakian girl, Sonia Szurma. They married eight years later in 1974. After living in Sonia's parents house for three years Peter and Sonia bought a house in Heaton, Bradford.
Earlier, in 1969, Peters mother had an affair with an policeman. When Peter found out he was devastated as he was very fond of his mother, more so than his father. But after discovering earlier that Sonia had an affair he told his father that he understood.
One year after Sutcliffe was married, he made his first attack on Anna Rogulskyj in Keighly on 5 July 1975, but she escaped with minor wounds. A month later he attacked Olive Smelt in Halifax on the 15 August 1975, she also escaped.
On the 30 October 1975, Sutcliffe had committed his first murder...
The Murders
As a Leeds milkman was driving down Harrogate Road, on the cold frosty morning of the 30 October 1975 he discovered a female body lying face up in the grass. Parts of her clothes had been pulled off and she had been stabbed 14 times in the chest and stomach. The body had been identified as Wilma McCann, a 28-year-old prostitute who regularly hitch-hiked home. The post mortem showed that she was heavily intoxicated at the time. A pathologists report revealed that she had been attacked from behind, bashed in the head with two blows of a hammer, one of which shattered her skull. The stab wounds were made on the body after it was dead suggesting the work of a sadist.
On the 20 January 1976 Emily Jackson and her husband went to the Gaiety public house on Roundhay Road in Leeds. The building was a meeting place for prostitutes and their clients. As Emily Jacksons husband took a seat and waited for her, she climbed into a Land Rover in the carpark. Mr Jackson waited for a while then assumed she'd probably take the whole night, so he went home in a taxi. The next morning a worker discovered the body of Emily Jackson, she was covered with a coat. Like the other murder, clothing had been pulled off, showing the breasts which had been stabbed. The head had been bashed with two blows from a hammer. Overall the body had been stabbed 50 times on the neck, stomach and chest. Also her back had been gouged at with a phillips screwdriver. The police got their first piece of evidence as the killer had left the impression of his size seven wellington boot stamped onto the right thigh of Emily Jacksons body.
The police officially linked the two murders of Wilma McCann and Emily Jackson, because of the similaraties the way they were murdered, but the only clue the killer had left was the size seven footprint.
Around October 1976, Sutcliffe got a job as a lorry driver at T.& W.H. Clark.
A year past and on the 5 February 1977 the Yorkshire Ripper struck again. 28-year-old Irene Richardson left a half an hour before midnight to go to a disco, as usual she walked the way but never showed up. The next morning a jogger discovered her body near a sports pavilion. It was the same as the others - head bashed in with a hammer three times, clothes torn off, and the neck and chest had been stabbed many times.
The police now knew that they had a serial killer stalking the streets, something not seen for a long time when Jack the Ripper struck in 1888. The press soon got details of the murders and gave the serial killer a name - The Yorkshire Ripper.
On the 23 April 1977 Patricia Atkinson, who was living alone in a small house in Bradford, went down to her local pub for a drink with her friends. After a while she decided to leave the pub and walk home. She was not seen all the next day but people thought she was just recovering from the night at the pub. The next day friends visited and found that the door to the flat was unlocked so they entered. As they went in they saw her body on the bed, her clothes pulled off, she was stabbed seven times and the killer had slashed the left part of her body. It seemed that she had been attacked as she entered the flat, with four blows from a ball-pein hammer, then the killer dragged her dead body on her bed and proceeded to mutilate it. It was no doubt the Yorkshire Ripper - a size seven wellington boot print had been left on one of the bed sheets, the same as the one left at the crime scene of Emily Jacksons murder.
One Saturday night, 25 June 1977 Peter Sutcliffe went to a pub with his friends and at around 2.00 a.m he left for home. As he was driving down Chapeltown Road, Leeds, he spotted 16-year-old Jayne MacDonald walking down the road. Jayne MacDonalds body was found lying by a wall in a playground at 9.50 a.m. the same day, discovered by children. The body was similar to all the other victims after they had been attacked. The first thing that set Jayne MacDonald apart from the other victims was that she wasn't a prostitute.
By now the police were desperate. A woman who survived an attack by the ripper, Maureen Long described him as 6ft tall, around 30-40 years of age, with long hair. Only a few women had survived an attack by the Ripper and their descriptions differed. By this time a police detective with 31 years of experience, George Oldfield, had taken command of the Ripper investigation, he was very unhealthy and suffered from heart problems.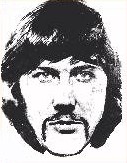 On the 1 October 1977 Jean Jordan accepted 5 pounds in advance and climbed into Sutcliffes car. They drove to some land allotments near the Southern Cemetery in Manchester. As they got out of the car Sutcliffe struck her 11 times with his hammer. He moved her body into some bushes and was just about to proceed to mutilate the body when he saw a car approaching and quickly left. There was one thing that Sutcliffe was worried about, the 5 pound note that he had given her, he knew the police might be able to track it back to his work where he got it from. He had received the brand new note from his pay packet at his employer T.& W.H. Clark. After an eight day wait and no news that the body had turned up, Sutcliffe risked returning to body to find the 5 pound note. Sutcliffe searched, but could not find Jean Jordans handbag. Frustrated Sutcliffe attacked the body with a broken pane of glass attempting to remove his hammer blow signature. In the end Sutcliffe gave up and left.
The next day a passerby discovered the body and notified the police. They failed to identify her at first because her head was mutilated beyond recognition, but got her identity from fingerprinting and discovered she was Jean Jordan. She hadn't turned up on a missing list as her husband thought nothing of her disappearance. The police found her handbag and upon further inspection discovered a secret pocket inside containing the new 5 pound note. The note, with the serial number of AW51 121565, was tracked through the bank to 30 possible companies, one of which was T.& W.H.Clark. The bank produced the names of 5,494 people who could of possibly received the note, one of these was Peter Sutcliffe. One month after Jordans death police went to Sutcliffes house and questioned him, they returned a week later and thought his alibi to be genuine.
By now prostitutes were scared, one system developed by 18-year-old Helen Rytka and her twin sister Rita was to take down the number of the car that the opposite twin went into and be back to a meeting place in 15 minutes exactly, that way they would be safe from the Ripper. On the 31 January 1978, Helen got to the meeting place 5 minutes early, when Peter Sutcliffe showed up. Helen Rytka probably thought the chance that he would be the Ripper would be one in a billion, so she climbed into his Ford and he drove to a timber yard near a railway line. Once there, Sutcliffe spotted 2 men in the timber yard and stalled so he had sex with Helen. After they had gone and when Helen got out the back of the car to get to the front seat, Sutcliffe struck her with his hammer, killing her. He then mutilated the body and hid it under a nearby wood pile. Helen's twin, Rita, phoned police three days later and reluctantly told them of her missing sister. The reason she phoned police so late is that she thought she would be arrested for soliciting. The police used tracker dogs to find the body, but found no other clues that would help catch the Ripper.
On the 26 March 1978, a person spotted a dead body in a red light district in Bradford. It was half hidden under an old abandoned sofa, the person was Yvonne Pearson. She had been killed ten days before Helen Rytka, also like with Jean Jordan, the killer had returned to the body to make it more visible. He also tried to tell police what the date of her death was by placing a newspaper under her arm. It was no doubt a Ripper victim.
At 8.10 a.m., 17 May 1978, a gardener found the mutilated body of 41-year-old Vera Millward on a rubbish pile next to a car park, she was the ninth Ripper Victim.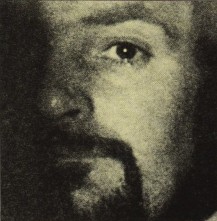 It had been about twelve months since the Yorkshire Ripper claimed his last vitim. The police were fearing that like the Jack the Ripper, the case would remain unsolved. It could be that the Yorkshire Ripper was incarcerated, had moved, or was dead, or unusually for most serial killers - he could of just retired. These claims were soon destroyed when he had claimed his tenth victim.
The tenth victim was 19-year-old Josephine Whitaker. Before midnight, on the 4 April 1979, just as she was crossing Saville Park, Halifax, she was spotted by Sutcliffe who was cruising for victims in his Ford. Her body was found early the next day, similar to all the other victims. Like Jayne MacDonald she wasn't a prositute, it was clear now that Sutcliffe would attack any women he saw walking the streets at night.
The Hoaxer
In March 1978 two anonymous letters were sent out, one to George Oldfield who was heading the ripper investigation and the other to a Manchester newspaper. The letters had claimed to be from Jack the Ripper who was threatening more deaths and ridiculing the police. Both letters were looked at and thought to be just somebody's bad idea of a prank, because most of the claims were false and miscalculated.
On the 23 March 1979, just one year after the first letters, another letter was sent to George Oldfield. The writing proved to be the same as the other letters. This time the writer talked of Vera Millward, and how she had stayed in hospital, because she was murdered the police thought that Vera could of only told this information herself. It went on to threaten more deaths, then on 4 April 1979 Josephine Whitaker was killed. Engineering oil traces were found on Whitakers body that were similar to traces found on the letter. George Oldfield thought the letter to be credible, but didn't rule out the possibility of a hoax.
An extract of the third letter published in the newspapers, police wanted the public to help identify the handwriting -
Dear Officer.
Sorry I haven't written, about a year to be exact, but I haven't been up North for quite a while. I wasn't kidding last time I wrote. < Parts missing >. That was last month, so I don't know when I will get back on the job but I know It won't be Chapeltown too bloody hot there maybe Bradford, Manningham. Might write again if up North.
Jack the Ripper
PS Did you get letter I sent to Daily News in Manchester.
Two months after Josephine Whitaker was murdered, on the morning of 18 June 1979, an envelope containing a cassette tape arrived at George Oldfield's office. The envelope was sent from Sunderland and the handwriting was the same as on the letters. George Oldfield played the tape, revealing that the writer of the letters and the voice on the tape had a Geordie accent and was living in the North East.
The voice on the tape message -
I'm Jack. I see you're still having no luck catching me... I reckon your boys are letting you down George. You can't be much good can ya? ... I warned you in March that I would strike again, sorry it wasn't Bradford... I'm not sure when I will strike again, but it will definitely be some time this year, maybe September or October, even sooner if I get the chance. I'm not sure where, maybe Manchester. I like it there. There's plenty of them knocking about. They never do learn do they George? ... Well it's been nice talking to you. Yours Jack the Ripper.
Two days after, George Oldfield presented the tape at a press conference believing it to be real, but still stating that it was possibly a hoax. George Oldfield was determined to catch the Yorkshire Ripper, in doing so a one million pound publicity campaign was launched by the office. They set up road side information points and even set up a phone line where you could listen to the Geordie voice, it seemed now that the police were confident that the Geordie Ripper was genuine. They relied on the Geordie Ripper so much, that Sutcliffe was eliminated from being a suspect.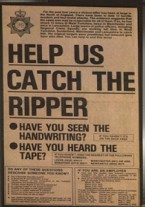 The Final Murders
On the 2 September 1979 at 1.00 a.m. Sutcliffe spotted 20-year-old Barbara Leach walking down quiet Ash Grove, Bradford. Barbara's body was found that afternoon in someones backyard, in a dustbin with a piece of carpet covering the body, she had been stabbed eight times.
Police were no nearer to catching the Ripper. The one million pound campaign turned up no new clues or evidence. Police were having trouble finding the Geordie Ripper, later would they find out it was just a cruel hoax that could have been responsible for the deaths of four women because it moved police attention elsewhere.
The next victim was 47-year-old Marguerite Walls who was killed in Farsley. On the 18 August 1980 she had left the office late at about 10.00 p.m. to walk home. Her body was found under a pile of grass clippings at a magistrates residence two days later. Police didn't believe Walls to be a victim of the Yorkshire Ripper because she had not been mutilated.
The thirteenth and final murder took place on the 17 November 1980 in Leeds. 20-year-old Jacqueline Hill had got off a bus and was heading home when Sutcliffe sighted her. After bashing her head in with his ball-pein hammer and dragging her body behind some buildings he mutilated her body, even stabbing her eye.
Modus Operandi
| | | | | |
| --- | --- | --- | --- | --- |
| Date | Area | Victim | Age | Result |
| 5 July 1975 | Keighly | Anna Rogulskyj | 34 | Attacked |
| 15 August 1975 | Halifax | Olive Smelt | 46 | Attacked |
| 30 October 1975 | Leeds | Wilma McCann | 28 | Murdered |
| 20 January 1976 | Leeds | Emily Jackson | 42 | Murdered |
| 9 May 1976 | Leeds | Marcella Claxton | 20 | Attacked |
| 5 February 1977 | Leeds | Irene Richardson | 28 | Murdered |
| 23 April 1977 | Bradford | Patricia Atkinson | 32 | Murdered |
| 26 June 1977 | Leeds | Jayne MacDonald | 16 | Murdered |
| 10 July 1977 | Bradford | Maureen Long | 42 | Attacked |
| 1 October 1977 | Manchester | Jean Jordan | 21 | Murdered |
| 14 December 1977 | Leeds | Marilyn Moore | 25 | Attacked |
| 21 January 1978 | Bradford | Yvonne Pearson | 22 | Murdered |
| 31 January 1978 | Huddersfield | Helen Rytka | 18 | Murdered |
| 16 May 1978 | Manchester | Vera Millward | 41 | Murdered |
| 4 April 1979 | Halifax | Josephine Whitaker | 19 | Murdered |
| 2 September 1979 | Bradford | Barbara Leach | 20 | Murdered |
| 18 August 1980 | Farsley | Marguerite Walls | 47 | Murdered |
| 24 September 1980 | Leeds | Upadnya Bandara | 34 | Attacked |
| 5 November 1980 | Huddersfield | Theresa Sykes | 16 | Attacked |
| 17 November 1980 | Leeds | Jacqueline Hill | 20 | Murdered |
| 2 January 1981 | Sheffield | Olivia Reivers | 24 | Sutcliffe Arrested |
The Capture
On the 2 January 1981, two policemen, Sergeant Robert Ring and Constable Robert Hydes were patrolling Sheffield. When they drove down Melbourne Avenue (a popular prostitute area) they spotted a woman climb into a car, they immediately went over to investigate so that they could make a possible arrest for soliciting.
The man in the car told them that his name was Peter Williams(Sutcliffe). Sutcliffe then asked if he could relieve himself, the police gave him permission, he then went near an oil storage tank. When Sutcliffe returned the police ran a plate check on the car and discovered the plates to be false. Sutcliffe and the prostitute, Olivia Reivers, were arrested and taken to the Hammerton Road police station. Sutcliffe was questioned and told them that his full name was Peter William Sutcliffe, and that he had got the number plates from a scrapyard in West Yorkshire.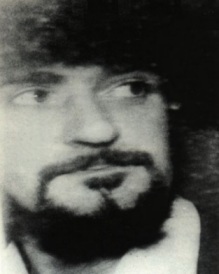 The next day when he was questioned again Sutcliffe mentioned that police had interviewed him about the 5 pound clue that the Ripper had left behind at a crime scene. The police were suspicious because he was caught in a car with a prostitute (which all police were told to arrest any man caught with a prostitute), and he was interviewed about the 5 pound note clue. Sutcliffe also told them that he usually travelled North-East because he was a lorry driver. The police called the Ripper Squad and found out that he was a possible suspect and when they told them that they had Sutcliffe in custody, Detective Boyle of the Ripper squad decided to travel to Dewsbury to Question him.
When Sergeant Robert Ring heard that the Ripper Squad were questioning Sutcliffe, he remembered how Sutcliffe relieved himself near an oil storage tank in Melbourne Avenue. Sergeant Ring rushed back to the scene and discovered a knife and a ball-pein hammer. Sergeant Ring then contacted the station and told them the news, they could not believe it. That night police searched Sutcliffe's house and questioned his wife, in the house they found about 30 weapons in total.
The next morning when Sutcliffe (who was not told at this stage that the police knew him to be the Ripper) was being questioned by Detective Boyle, Boyle mentioned the knife and hammer; Sutcliffe asked Boyle if he was leading to the Yorkshire Ripper, when Boyle said he was, Sutcliffe confessed to being the murderer.
The End
Over the next few days Sutcliffe gave police his full confession. He admitted killing 13 women in total, and denied having anything to do with the Geordie Ripper. Sutcliffe said his main reason for murdering was revenge on prostitutes because one cheated him out of 10 pounds, he was later to change his motives.
Sutcliffe was judged as a paranoid schizophrenic by doctors. Sutcliffe told them that when he was working at Bingley Cemetery he heard gods voice emanating from a gravestone which commanded him to kill prostitutes, even though not all of his victims were prostitutes. They also conducted a handwriting analysis from an epitaph found in Sutcliffe's lorry, which revealed him to have some schizophrenic tendencies.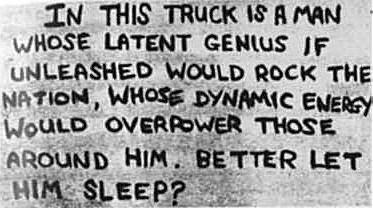 Sutcliffe's Epitaph
Sixteen weeks later Sutcliffe went to court to face charges. It was up to the defence counsel to prove that Sutcliffe was insane, by this Sutcliffe pleaded guilty to manslaughter. The prosecutors tried to tell the jury that Sutcliffe was sane, by providing a witness; a prison officer overheard Sutcliffe tell his wife that if he convinced people he was mentally ill he might only get ten years in the looney bin. The prosecutors also came up with evidence that in 1972, Sutcliffe's wife suffered from a nervous breakdown in which she heard god's voice, an act that Sutcliffe thought he could copy to fake his schizophrenia.
On the 22 May the jury delivered their verdict - they found him guilty of 13 murders and seven attempted murders. The judge sentenced him to life imprisonment, where he would serve at Parkhurst Prison.
In 1983 Sutcliffe was attacked with a broken coffee jar by another inmate. The cut required 84 stitches to his face. In March 1984 he was transferred to Broadmoor mental hospital. At Broadmoor, Sonia still visits him, even though she is judicially seperated from him.
It will remain unknown if Sutcliffe faked his mental analysis, In Broadmoor it is said that his mental state has deteriorated.
George Oldfield, who headed the Ripper investigation, died in 1985 from a heart attack. This is attributed to his unhealthy lifestyle, he also got emotionally involved in the Ripper case that he was so desperate to solve.
It turns out that the Hoaxer who had misdirected police was actually a retired police officer who had a grudge against George Oldfield, his reasons for the false letters were to settle the score against Oldfield whom he hated.
Conclusion
The Yorkshire Ripper eluded police for five years, at every piece of avalaible evidence Sutcliffe got past it. Who knows how many more victims he would of claimed if he wasn't caught. One question still remains unanswered by police, how did he avoid a huge police operation for all those years?