Wayne Williams - The Atlanta Child Murders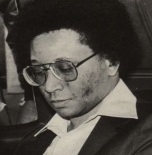 From October 1979 to May 1981, Wayne Williams killed twenty-seven young black boys in Atlanta. As most serial killers are white, it was thought that the Atlanta child murderer was a white racist. Most of the boys were taken from black neighbourhoods where a white man would stand out, so police announced that they were looking for a probable black serial killer.
On 22 May 1981, police heard someone dumping something in the Chattahoochee river. A black man, 22-year-old Wayne Williams, was found climbing into a station wagon, and was questioned by police then allowed to go.
When a body turned up in the river a week later police talked to Williams again. Fibres found on the victim matched one's found in William's car and he was arrested. At trial Williams was found guilty and sentenced to life imprisonment.